---
---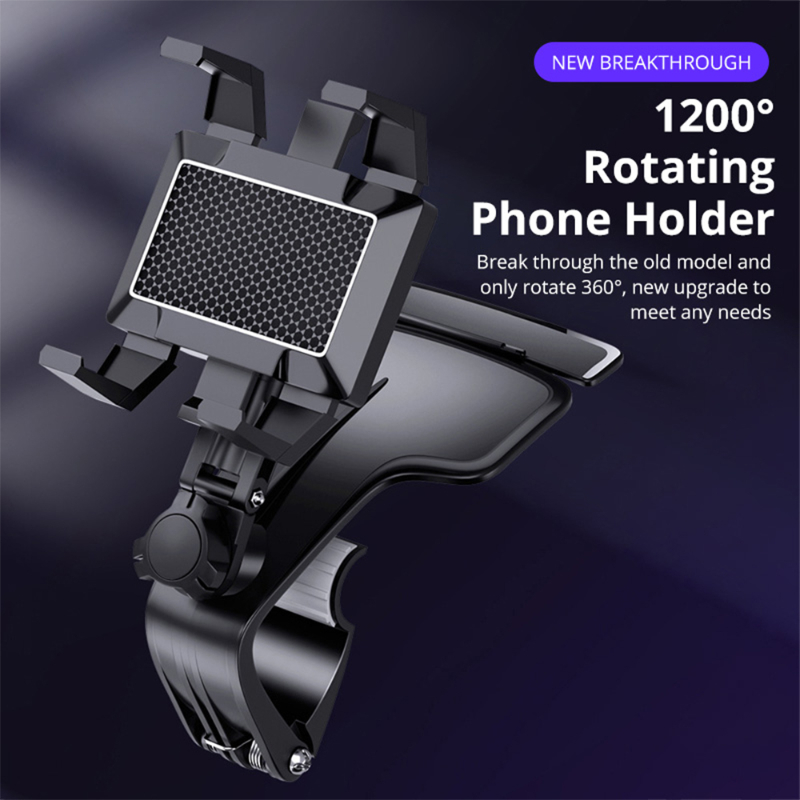 Features:

1. Multiple Viewing Angles
This dashboard mount phones is equipped with four movable joints. The 1200 degree rotating design allows you to position your device to a perfect angle no matter the phone holder is placed on the dashboard, rear view mirror, sun visor or desk.
2. Perfect Protection
The four-leaf non-slip clamp arms enables the holder to grip your mobile devices firmly and keep stable on a bumpy road. The upgraded thickened non-slip mat at the bottom prevent any damage to the car interior. 
3. 4 in 1 Multifunctional Car Phone Mount
The car cell phone holder can be placed to multiple areas as needed-- dashboard, rear view mirror, sun visor and desk. This car phone holder integrates a turnable parking phone number plate on the back, which is more convenient for temporary parking. 
4. One Hand Operation
This dashboard phone holder allows you to lock or release your phone with just one hand while driving. Easy to adjust the cell phone to horizontal or vertical screen. It

 adds a durable elastic spring clip that makes the installation much easier. 


5. Upgraded Materials
This dash phone holder is made of high quality ABS material and alloy which makes the phone cradle lightweight, durable and robust.
6. Universal Compatibility


It will firmly hold majority of the cell phones that is 3-7 inch even with a thicker case.
---
Excellent. Adjustable to good range of positions, holds tight. Looks sturdy and durable. Must have dashboard contour as indicated in description.
Tired of finding suction cup phone holders laying on the floor, or seeing my phone drop while driving, I gave a try to this one. My car has a couple of places in the dashboard where the holder can be attached without obstructing the driver's view. Not all cars are suitable though.
After a few weeks driving around, I'm very happy with my purchase.
I like the protective padding underneath so it doesn't damage or scratch the dashboard. Very easy to use and great grip.